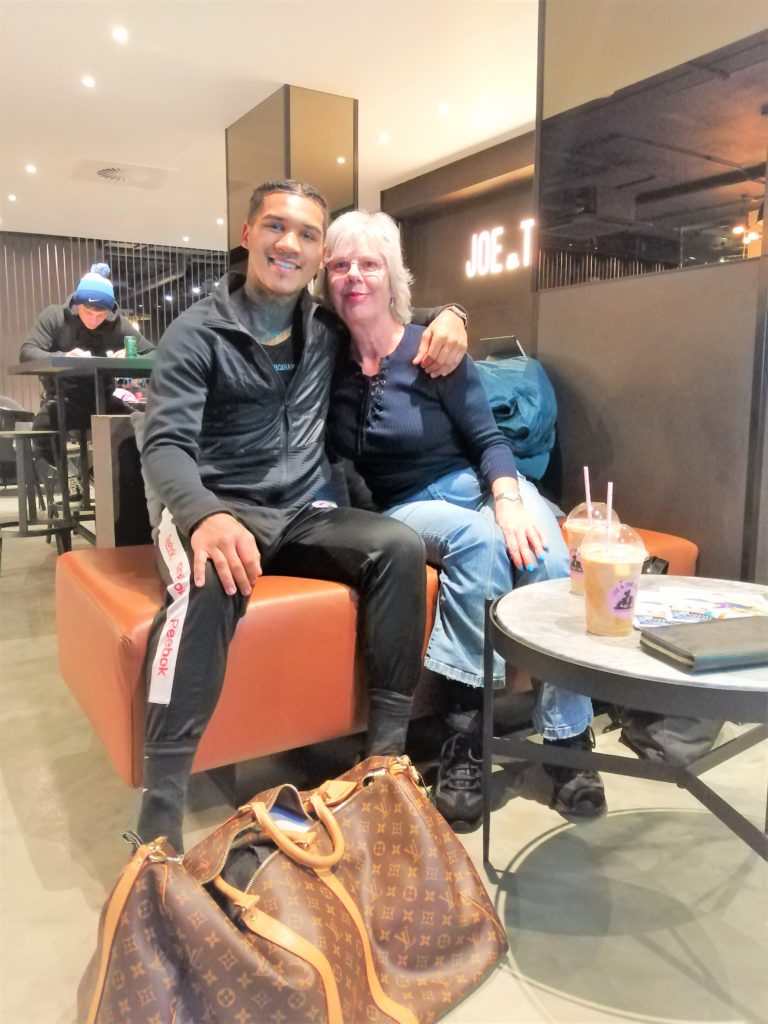 Most debutants might dream of being chief support to Anthony Joshua versus Charles Martin at the O2 Arena in front of 20,000 people.  By virtue of his name, Conor Benn has been thrust into the spotlight straight from the start.  But, as the 19 year old Londoner marched out to the haunting melody of 'Ready or Not' by The Fugees, a song released the year he was born, it was a surreal experience, more akin to a deer transfixed by oncoming headlights.
His story is driven by destiny, a bit like a leaf in the wind.  He didn't even want to be a fighter when he was young.  When he arrived in the rock-hard town of Hyde to train with Ricky Hatton, he had no deep-seated desire to emulate his dad.  Conor explained "There was nothing much for me in Australia at the time, so I thought I might as well give boxing a go.  Before I left Australia, I was a painter and decorator, not that there's anything wrong with painting and decorating.  I was good at it actually.  It's the only thing where I've had a delicate touch in my life.  Everything else, it's like I've got led in my hands.  If boxing doesn't work out for me, I'll probably start my own painting and decorating business."
"Ricky Hatton's last fight was the first fight I ever went to, and I love Ricky's style.  He always brought it.  So that's why I chose Manchester.  At first, I lived in a flat next to a nut-job.  He had slabs of wood hammered into his window frames.  I kept hearing stuff next-door and I couldn't quite work out if there was someone living there or not, and then I see this geezer come out and he's looked at me and I've looked at him, and I'm thinking 'What am I doing here?'  Then I moved into a house with Nathan Gorman, Reuben Arrowsmith and Sam Evans.  It was all right.  It was fun, but they all used to go home on the weekends and then I'd be on my own, and obviously I was in Manchester, so I couldn't even understand people!"
"When you watch my fights and I'm skipping to the side, left hook to the body, Ricky got me doing that.  He was there at my debut and, after I knocked the guy out in the first round with a shot he that taught me, I looked at him and I said 'Thank you, Ricky,' because obviously I left Ricky and moved to London to sign up with Matchroom.  But I will always be grateful to Ricky for taking me in."
"Eddie Hearn has done an amazing job on me.  Don't get me wrong.  He's not doing it for charity, but, if I was with any other promoter, I don't think they would have done this well with me.  I've got the name, so obviously that makes it easier, but I back it up in the ring and Eddie is an unbelievable promoter, and his dad is such a nice man.  Barry has stuck up for me a few times on Twitter and I'm like 'Go on, Barry!'"
"Tony Sims knew my dad back in the day, and he knew my mum before my dad even knew my mum.  Me and Tony have got a great relationship.  I've had to go through a lot of discomforting things here, things that have made me not want to stay in England, just life, I guess.  But my loyalty to my coach goes beyond that, because I can't see Tony not being my trainer.  He's shaped and moulded me into the fighter I am today.  He's very old-school.  He's got that hardness, that toughness.  I know I live a luxury life, but, when I get to the gym, it's spartan, and that's how Tony trains me.  On fight night, I've also got Mark Seltzer in my corner, who is an excellent cuts-man, and Dan Lawrence is my S&C coach and he's worked wonders with me."
"When I first walked into the Matchroom gym, the boys were very welcoming, which was nice.  We're all working for the same thing and we're all in it together.  Doing the sprints early in the mornings when its freezing cold, that's the worst thing.  We're all out there, but we're not competing with each other.  We're all just trying to stay alive!"
"There's a brilliant man in my life called Luke Chandler.  His little boy, Jackson, comes in the ring with me sometimes.  Luke sponsors the gym, but he sponsors me individually as well.  I wouldn't be where I am without this man, without a shadow of a doubt, and I don't say that lightly.  When I first came to Matchroom, he's gone 'Let me know if you need anything.'  I didn't even ask, but he put me in an apartment in Brentwood, right near the gym, and then he got me my first car.  I was 19 at the time, and I hadn't even passed my driving test."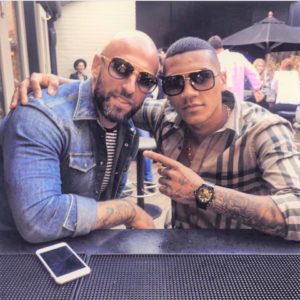 "Before I turned pro, me and Luke were in his car, and he had the sickest car!  We were driving to Kal Yafai's fight, who is another fighter he sponsors.  So then the song comes on the radio, 'Ready or not, here I come, you can't hide' and I was thinking that is so relevant.  That's my walk out tune, and Luke also has his own history with that song.  So that's where 'Ready or Not' came from.  Then I thought I'm going to bring back some old music, so in my last two fights I've come in to 'Dangerous' by Conroy Smith, which was my dad's music for his last fight."
The price of fame is that everybody wants a piece of you, and Conor's memory tends to serve as a buffer against the chaos.  "I meet so many people these days, thousands of people, so why would I remember everything?  You meet all these different people, but, everywhere I've gone in the world, I've met the same sort of people, nothing new.  But I don't seek emotional comfort via people.  The important things stay with me, the things that I want to remember."
"I was pleased with my debut.  It weren't bad.  I got him out of there.  But, to be honest, I couldn't quite believe it was happening and, when I look back at it now, it's all a bit of a blur.  One thing I say to fighters coming along now is absorb it.  I didn't really absorb it.  I was just stood there thinking 'What am I doing here?'"
"The only thing I remember about going to Glasgow to fight Luke Keleher was that Tony has gone to me 'Con, go to the counter because you've got to change your money.'  So I've gone to the counter and asked to change my money, and the girl behind the counter has started wetting herself!  They done me dirty, and all the boys were watching and laughing.  So that's all I remember about Scotland, that you don't have to change your money if you go to Glasgow!"
In his third fight, Conor blasted Lukas Radic away in one round, but it was the nonchalantly defiant way that he dealt with Chris Eubank Senior at the pre-fight press conference that stole the show.  "If he wanted to pull me aside from the cameras and have a chat with me, I'd rate that.  Thank you.  Your advice is gold.  But don't be doing it in front of the cameras and all that to a 19 year old boy.  I don't respect that at all.  To the extent that you're wanting to make yourself feel a certain way, don't use me to try and do that and don't think I'm going to sit here and tolerate it either, irrelevant of who you are."
"As fighters, we see boxing through a different lens to everybody else.  People don't realise how tough boxing is.  When I broke my jaw eight months into my career, I'd been sparring with John Ryder and I think I got a hairline fracture from Ryder, because I had pains in my jaw for ages every time I sparred, but I'm hard and I didn't tell anyone.  Then Ohara Davies finished it off.  He went crack straight on my jaw.  I flinched, and I never flinch, and then I carried on.  Then Ohara hit me again, and I've had to say 'Stop, stop, stop,' because I couldn't feel my teeth.  Then I spat and I expected teeth to come out of my mouth, and there was just blood everywhere.  Part of my jaw is still numb now.  When I went back to sparring after my jaw had healed, Tony said to me 'I bet you're going to be a little bit worried.'  But I was like bang, wallop, come on!  If it's gonna go, it's gonna go."
Upon his recovery, Conor hit the ground running with four swashbuckling stoppages on the trot, the latter being his first fight in America when stopped Brandon Sanudo with a brutal body-shot in the second round, which left the Mexican laid out in agony on the canvas.  "New York was cool.  It was exciting.  We stayed at the Dream Downtown Hotel, and I went out the night after the fight to a club called 1 OAK.  I thought I'm going to party.  I thought this is sick.  I was with a few of my boys, and my pastor from my church came out with us as well.  We all had a great time."
"When I got back, I was jetlagged.  I had a three day commitment to a Reebok shoot.  I'd put on a stone and a half in weight, because I thought I weren't fighting for a while and I ate loads of Dunkin' Donuts.  Then, four weeks later, they put Cedric Peynaud in front of me.  I looked at his record and I thought I've just knocked out five geezers on the trot.  Bring it on!  I thought I was sweet, but I weren't."
"That was the first time I ever got put down in my whole life.  He put me down twice, I put him down twice, and I was on autopilot in that fight, 100 per cent.  I was a state.  That's the only time so far that I would say I've ever really been in the heat of battle.  That's the only time I was ever oblivious to absolutely everything.  Tony was slapping me in the face, but I was just sitting there in the corner and I didn't even hear a thing he was saying.  I was just in this fight, and it was as if everything was in slow motion.  Peynaud could have knocked me out that night.  He didn't, but he could have."
"In my next fight, I stopped Chris Truman in Liverpool, and then I wanted to fight Peynaud again.  Tony was saying to have another warm-up fight, but I said 'If I'm going to fight him again, I'll fight him now.'  I think everyone was a little bit worried, but I didn't feel that I needed to wait.  I thought I'm better than that.  I'm better than him."
"I had the best training camp I've ever had.  Then, on fight week, I've injured my right hand and I've had cortisone injections, and I could still feel the pain when I was on the pads.  They were suggesting that I pull out of the fight, but I said no way, because I thought I'd knock him out with my left.  But then, when he's come out, he's switched to southpaw, and the only punch that is really effective against a southpaw is the backhand straight down the middle.  I managed to put him down three times in that fight with the bad knuckle.  Then I went to the hospital after, and I'd torn my tendon."
"The second fight against Peynaud might have looked easier, but it was just as hard.  If anything, I thought the first fight was easier, I swear, because I'd never done ten rounds before either and concentration was a problem.  Sometimes, when I'm boxing, I can be thinking about anything that enters my head.  I could see someone recording on their phone and think 'I wonder if that's going on his Instagram.'  I might think 'Who's that geezer talking to my bird?  Stop the fight!'"
"One of my favourite fights yet is Jussi Koivula at York Hall.  It was my first time as top of the bill and I thought I was in for a long night with him, so it felt very good to bang him out in the second round."
"Then, in my last fight against Steve Jamoye, I couldn't believe it when the referee took a point off me for hitting low.  I said 'That weren't low,' and he went 'Keep boxing!  Stop when I say stop."  But I didn't care about the referee.  I knew the geezer didn't like it to the body, and I just kept winging them in there.  Afterwards, I said to the ref 'Are you sure?  I'll watch the fight and, if it weren't low, me and you are falling out.'  Then I watched it and it was low, so me and Steve Gray are still good friends."
"I got married on 2 January last year.  Me and Victoria met on social media and we were friends for a couple of years.  Then she just ended up living with me and she never left and, by the grace of God, everything's good.  My prayer always was to meet someone when I was young, so that we could advance together.  We're having my career together.  I ain't got to do it on my own.  She's only ever known me since I've been boxing and she's seen me in some states in the changing room, which is hard for her.  But, at the end of the day, we go on a lovely holiday afterwards.  Thanks to Luke Chandler, we now live in a two-bedroom house with a beautiful garden for my two dogs, Solomon and Levi.  So we're living a nice life."
"People on social media can say I'm ducking this one or that one, but I don't give a toss.  I fight like my dad, and that's it.  I don't have to try.  Name a dull, boring Conor Benn fight.  There ain't never been any.  I'll fight anyone who's put in front of me, and I know somebody is going to have to knock me out or be a lot better than me to beat me.  If they ever get in the ring with me, they're going to have to work hard just to keep me off them, but I don't think about them."
"I believe it's important to be in control of your feelings.  When I'm in training camp for a fight, I listen to rap and hip-hop.  But, after a certain point, I listen to Mozart.  I like the violins.  It just chills me out, because otherwise I end up in an always aggressive state.  What makes me happy is being peaceful, and my faith is what gives me peace.  Say there's a massive storm and a big hurricane, all crazy, and there's birds in their nest on a cliff and the birds are peaceful amongst all the madness that's going on, that's how I envision it.  Everything may not be smooth sailing, but you can have that peace."
"I pray every day for God to give me the strength of Samson, the humbleness of Joseph, the wisdom of Solomon and the ferociousness of David.  God has a plan for me and, even if I lost, it's God's will, which means I haven't lost.  I've won, even though it may seem like I've took a loss to everybody else.  All I've got to do is make sure I train hard, make sure I do everything I can, and I only bother to worry about what I am in control of."
Thus far, the Conor Benn story has been highly enjoyable, for us on the safe side of the ropes anyway.  Unpredictability is a key element of our fascination with fighters, and Conor's pulling power in this regard is absolutely irresistible.  He could take a tumble in his next fight.  We may be witnessing the dawn of a future people's champion.  In the meantime, the diamond is rough.  The talent is raw.  The prospect is electric.