SweetFightingMan.com
BOOKS ONE & TWO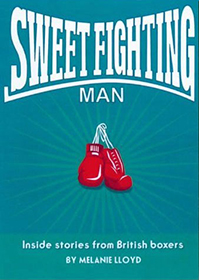 Boxers in the book
The personalities featured in this volume are Jimmy Tibbs, Steve Robinson, Mickey Cantwell, James Cook, Colin Dunne, Billy Walker, Spencer Oliver, Crawford Ashley, Bob Paget, Peter Buckley, Nobby Nobbs, Alan Minter, Johnny McManus and Howard Winstone.
Endorsement by the late, great Reg Gutteridge OBE
"I know most of the interviewees in Sweet Fighting Man. They are brought to life by Melanie's enthusiastic and subtle insistence and, with regular fight reporting, she knows a left hook from a coat hook. This tome is the first bell of a promising journalistic career – on the safe side of the ropes!"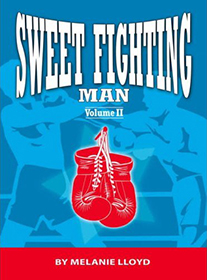 Boxers in the book
The personalities featured in this volume are George Cooper, Clinton McKenzie, Teddy Lewis, Bob B.F. Williams, Michael Sprott, Mark Rowe, Jane Couch, Ivor 'The Engine' Jones, Tony Booth, Colin Jones, and the last word from James Cook MBE.
Endorsement by the late, great Reg Gutteridge OBE
"Over the years, I have watched this author 'mature' in boxing terms. Melanie Lloyd's Sweet Fighting Man (Volume II) draws you in and, once you pick it up, you don't want to put it down. It grabs you. Because she cares so much, it shows in the writing. Nice one Melanie!"
Your Comment to the Author, Melanie Lloyd