SweetFightingMan.com
A BOXING ANTHOLOGY
Sweet Fighting Man – Ring of Truth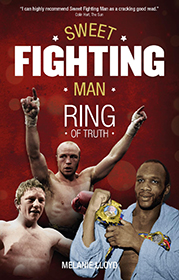 THE BOOK…
"There can be no greater satisfaction for any sports journalist than to be trusted implicitly and respected by the characters you are writing about. It certainly doesn't surprise me that these hard men have happily unburdened themselves to the feisty Miss Lloyd. Because of her knowledge of the sport, combined with her warm and vivacious personality, they have no hesitation in revealing their innermost thoughts and feelings."  (Colin Hart – The Sun)
The fighters in Sweet Fighting Man (Ring of Truth) pull no punches as they tell their vibrant stories of victory, defeat, and everything in between:
Jon Thaxton worked himself up into such a frenzy for a British title defence that he punched the changing room wall so hard that he thought he'd broken his hand – and that was before the fight!
When Sylvester Mittee turned professional, it was the lads he used to fight with in school who used to buy tickets to watch him box.
Read about the time when Steve Holdsworth jumped into the ring, stripped off and changed into his MC attire in front of a raucous crowd at a boxing show in Dublin.
Before boxing captured his heart completely, Colin Lake had 28 races as an apprentice jockey, including seven wins – four of them on the same horse!
Bunny Johnson waxes lyrical about the impact on reggae music in this country, and how the skinheads adopted the sound as their own because of the 'Babylon' aspect.
Wendy Schwer gives a rare glimpse into what goes on in a mother's mind when her son is in action in the ring, both when he wins and when he loses.
While the other boxers on a show would be shadowboxing around him, Joe Somerville used to 'warm up' for his fights by doing crosswords in the changing room.
James Cook MBE provides the foreword. Also featured are Dave 'Boy' Green, Johnny Kramer and there is a chapter taking an in-depth look at the role of a referee.
The thought-provoking reflections of these men proffer a unique insight into the rollercoaster life of a professional boxer.